Let's face it. There's an insane amount of competition when it comes to mattresses. There are tons of brands and the market is flooded with mattresses that claim to the best.
But then there comes a mattress out of nowhere and to everyone's surprise, takes the top spot as 2018's best mattress. What's more, this mattress is offered by a brand that has come into existence very recently.
Now, that is enough to say that there has to be something special about this mattress. As you know, this is the PUFFY mattress that we are talking about.
There's probably been no mattress in recent times that has been as increasingly popular as the Puffy mattress.
But what makes it so special? Why it has been crowned as 2018's best mattress? What's about it that the customers are being all praise for?
Well, we will find out the answers to all these questions in our extremely detailed, in-depth Puffy mattress review – the only review you will ever need to read to find out everything you need to know about it.
The Complete Puffy Mattress Review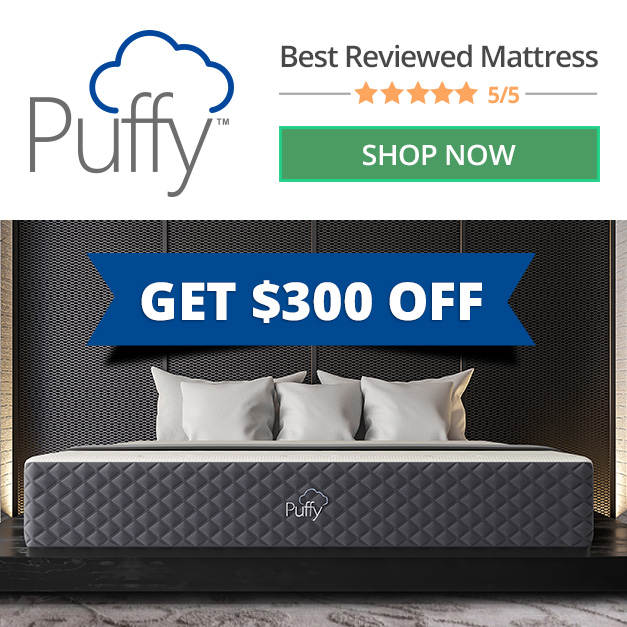 First things first, there's a reason the Puffy mattress has been rated as the 2018 BEST mattress by both top review sites and consumers that have been using it. Although Puffy is a fairly new brand on the market, it brings quite a bit of innovation with its mattress which has already helped it make a mark.
The reason this is especially impressive is because it's not one of those mattresses that cost a bomb. It's priced surprisingly modestly for what it offers, and that has helped it quickly become the favorite pick of consumers that are looking for the best price to value ratio.
Now with the introduction out of the way, let's get to some of the more technical features of the Puffy mattress.
Construction
The construction is one of the most important aspects of a mattress as crucial features like comfort and back support are tied to it. If the construction of the mattress leaves a lot to be desired, then you're certainly going to be disappointed with the comfort (or rather the lack thereof) and your overall experience using the mattress.
That said, the Puffy mattress certainly seems to be the best in its price range on this front. It's a 10" mattress that has two layers – a 3" top layer and a 7" bottom layer.
Cooling Cloud Technology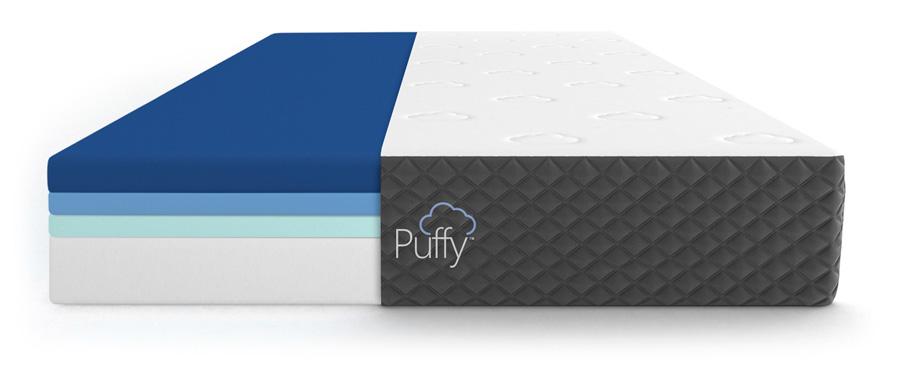 The top layer is built using patent pending Cooling Cloud memory foam. This makes the mattress super comfortable, relieves you of all the pressure points, as well as keeps you cool all through the night by eliminating all the heat from your body.
Needless to say, you would never find yourself waking up sweaty or sticky, which is rather annoyingly common with some of the other mattresses in this price range especially when you're feeling hot when hitting the bed.
But wait, there's more to the unique Cloud Cooling than that. Apart from what we mentioned above, this highly innovative technology also makes the mattress be super cool on its own, no matter how long you sleep on it. This is something not much short of a magical feature, as some other mattresses, especially those that don't cost a few thousand dollars, lose their "coolness" steadily when you're a few hours into your sleep.
And of course, that would translate to a decreasing level of comfort as well. This is something you may not be aware of, but it's often one of the important reasons for abruptly waking up in the middle of the night.
Furthermore, it makes you feel comfortably cool almost immediately after you sleep on the mattress, even when you're feeling hot before sleeping on it. This would help you have an optimum body temperature when sleeping, which is crucial for a good night's sleep and waking up fresh and energized.
Great Support for People with Back Pain
Coming to the 7" bottom layer, it's made using dense support foam. This is the layer that provides the mattress the firmness it needs.
Now, don't mistake the firmness here for the lack of softness. As we mentioned above, innovation is pretty strong with the Puffy mattress.
So while the Puffy mattress is firm enough to support your back and take care of any back or hip issues or any other kind of issues you may have, the firmness is very well-balanced and wouldn't interfere with the comfort in any way.
The bottom layer also comes with spine alignment support that not only means that your back problems when sleeping would immediately become a thing of the past with the Puffy mattress, but it's also going to work just as well for side sleepers. It would help them get great support for their hip and shoulder, and prevent issues like numbness that are often common for side sleepers with other mattresses.
Best of Both Worlds!
To put simply, you get the best of both worlds with the Puffy mattress; and that's saying something given you do have to compromise one bit on either of the two fronts and there's no trade-off either with respect to other important features.
Finally, as far as the construction is concerned, the Puffy mattress makes itself a perfect choice for most people out there. This includes those that are after a superior level of comfort at a reasonable price, people experiencing back or hip pain, or even those having issues related to their sleep such as insomnia (Yes, there have been customers with said issues saying this thing is helping them sleep way better!).
Motion Transfer
Motion transfer is basically the amount of movement in the mattress that you experience when another person sitting or sleeping on it moves or turns. A particular Puffy mattress review posted by a customer did say that the customer was having a lot of trouble at night due to their wife shifting a lot in their position when sleeping.
And as their previous mattress had a lot of motion transfer, this would end up disturbing the husband in their sleep. They said they used to wake up a few times every night this way.
Then came the Puffy mattress, and the husband couldn't be more thankful to the founders for introducing such a magical product to troubled husbands like him. After starting to use the Puffy mattress, the husband would feel absolutely no motion transfer AT ALL, although the wife would continue to move while sleeping like she always did.
This speaks volumes about the overall quality of the Puffy mattress. In addition to everything that we have walked you through above, there's also going to be extremely minimal motion transfer.
For very heavy sleepers moving around in their sleep, though, there may be a little more motion transfer, but perhaps nothing that will disturb the other person's sleep.
Sinkage
Sinkage is believed to be another important factor when it comes to mattresses. A mattress that sinks a lot may not turn out to be as comfortable as others that do not.
Also, with regular use, a mattress that sinks a lot is likely going to lose its ability to be comfortable with time. Not to mention, it may encounter durability issues as well.
Now, the sinkage is fairly low with the Puffy mattress especially given the level of softness it brings to the table. That being said, heavier sleeper may not find it incredibly firm, and the top layer may experience some sinkage.
However, the sinkage is apparently far less with the Puffy mattress than with most other mattresses at this price point even for heavier sleepers. It's important to note here that by heavier sleepers we mean people weighing about 260 lbs or more.
As far as people that weigh considerably less than that are concerned, there will probably be little to no sinkage; but they will experience an amazing level of softness that's going to pave the way for some heavenly sleep.
On top of that, the weight distribution on the Puffy is also surprisingly good, even for heavy sleepers. We wouldn't be surprised if you don't even feel that you're sleeping on a mattress with the Puffy.
Edge Support

We think that the edge support is decent with the Puffy mattress. Customers that made the effort to post a detailed Puffy mattress review, too, seem to agree with us after using the mattress for a decent bit of time.
However, there are some that say otherwise. Now, it's to be taken into consideration that the Puffy is only a 10" inch mattress AND priced surprisingly affordably. The edge support is usually not the best with 10" mattresses, let alone the ones priced as low as the Puffy.
That said, you may still not find yourself feeling that you would just roll off the side when sitting or sleeping on the edge. Perhaps there would be a little more sinkage if you're on the heavier side, but that's that.
Other than that, we don't think the edge support is going to disappoint you in any way.
Bounce
While we don't really think you would want to care much about the bounce, some people do. If you're one of them, you will be glad to know that being very soft, the Puffy mattress manages to offer a fair bit of bounce.
However, unlike with many other mattresses out there, the bounce doesn't come with decreased firmness or support with the Puffy. That said, the Puffy is not extremely bouncy, but just enough to help complete the recipe for a perfect sleeping experience.
101 Nights Sleep Trial!
THIS! This is it. You just can't NOT buy the Puffy mattress after knowing about their 101 NIGHTS SLEEP TRIAL.
Do you know any company that offers a trial period of over 3 months? And while it's not exactly rare to have trial periods when it comes to mattresses, but we would be surprised if there's any brand out there that offers a trial period as long as Puffy does.
Now, how can you NOT buy the Puffy mattress after knowing that you have as many as 101 nights to decide whether it's worth the price you pay for it? It's an absolute no-brainer!
If some of you feel that it may just be an aggressive sales strategy by them that may or may not work that well, you couldn't be further from the truth. This is because with there being so much competition, it would be disastrous for a new company to offer a trial period of over a 100 days if they don't really believe in their product.
The only reason we can think of for Puffy offering such a massive, insanely long trial period if simply that its incredibly confident in the quality of its mattress. And that isn't exactly astonishing or anything like that, given the kind of reviews it has been getting from the customers.
There's probably just one complaint that customers seem to be having with the Puffy; and it's that it's very difficult for them to get out of bed due to the heavenly comfort they get when sleeping on it.
For those that are on the fence on this one, there's literally nothing to lose! You don't even have to search where to buy Puffy mattress, as we have the "Buy Now" link for you right here. Just click on it and make the purchase that you just can't go wrong with!
Puffy Mattress Sizes
As we mentioned right at the start of this buying guide, this is a COMPLETE Puffy mattress review. We are covering pretty much everything there is to know about this increasingly popular mattress that hit the market only recently but has arguably quickly become 2018's top mattress out of nowhere.
That said, if the sizes are something that you need help with as well when buying the Puffy mattress, then all you need to do is read what we have to say about the different sizes the Puffy is offered in.
While Puffy only offers one mattress, there are as many as six different sizes that you can choose from. Let's take a quick look at them below.
TWIN: The twin is the smallest size but would work well for couples that are not too heavy or tall. It also costs the lowest.
TWIN XL: Pretty much the same as the TWIN size but comes with a little more height to it making it a slightly better option for taller couples.
FULL: The FULL size is the same as the TWIN size in terms of the height but has a lot more width to it making it ideal for heavier couples.
QUEEN: If you're after a generously sized mattress that allows you to have a decent amount of space around you when sleeping the QUEEN size is what you're looking for.
KING: The absolute best size to ensure that you're getting as much comfort out of your Puffy mattress as it can offer.
CAL KING: The only difference between the KING and CAL KING size is that while the former is a better option for heavier sleepers, the latter is going to be perfect for relatively lighter, taller sleepers.
The Puffy Mattress Foundation
Puffy also offers mattress foundation and adjustable mattress base besides its main product, which is of course the Puffy mattress that we have been reviewing so far. We think both the Puffy's mattress foundation and base are something you would want to consider if you don't have a great mattress "setup" in place at your home.
However, while the Puffy mattress would work great with Puffy foundation and base, even other mattresses will work really well with them. As with the mattress, Puffy didn't fail to be quite innovative with these products as well.
Talking about the Puffy mattress foundation in particular, it's built very differently as compared to other typical mattress foundations, and that helps it stand out with ease.
With that said here are some of the highlighting features of the Puffy mattress foundation.
A Lot of Room for Extra Storage
While many other bed platforms would take up precious space in your room, the Puffy mattress foundation would actually help add to the overall storage of your room. This is because it's 15" tall and hence offers a lot of space that you can use to store things that you need an easier access to.
Absolutely Noise-Free
It's surprising how often this important factor is ignored when people shop for a bed base. Needless to mention it's a common reason many people experience frequent disturbances when sleeping as the cheap frames make squeak-ish, creek-ish sound every time you move around in your bed. This is a common issue associated with bed bases which may be worrying for sleepers that find themselves moving around a lot in their bed.
But as we said, Puffy has found workarounds for pretty much every common issue associated with mattress products, and in this case it's the use of a superior quality recyclable hardware.
And that allows it to be absolutely quiet during the night, no matter how much you tend to move when sleeping. However, the quietness doesn't come at a compromise on the more important factors such as the support, as the Puffy mattress foundation also offers a great level of support to both you and the mattress.
Super Durable
The Puffy bed base is actually made with heavy duty steel. And that not only helps it be very quiet during the night as we discussed above, but also extremely long-lasting.
You would really be hard-pressed to cause any kind of damage to this beast, as it's super strong and capable of holding as much as over 1000 lbs.
101 Night Trial
You gotta say that the Puffy seriously means business with their products. They are not afraid of going out of their way to prove themselves and gain customers' trust, and that's not just for the mattress, but their mattress foundation product as well.
Yes, the Puffy mattress foundation too comes with a 101 night trial, so you have to be exceptionally paranoid to not want to give it a try.
The Puffy Adjustable Base
Well, now that we are done reviewing the Puffy mattress foundation, let's get to the Puffy adjustable base.
While not everyone may want to consider getting an adjustable base for their mattress, but it's definitely worth every penny for those that want to get the most out of their mattress and have the kind of comfort that's totally unmatched by only a mattress and a foundation.
And that's very true with the Puffy adjustable base, as it's more like a massaging device than a typical base for your mattress.
Some of its features include:
Great choice to complement a memory foam mattress
Offers a zero gravity position that works great for pain relief
Offers both head and foot massages at 3 different speeds – no matter your preferences it has something to please you!
Highly versatile and flexible thanks to its 3 different height options
Wireless remote for ease of use and control
Dual USB charging
Easy to setup
Thanks to the different positions it comes with, you would be able to relax the way you want on it. The variable massage speeds are amazing and most people would find themselves getting a heavenly relaxing feeling at the second and the third level massage.
All in all, if budget is not much of an issue for you, the Puffy adjustable base is a must-buy with the Puffy mattress so that you have a bed setup that's as comfortable as it gets.
Summing It Up
All said and done, there are not many mattresses that offer pretty much the best of everything at such a low-end price as the Puffy mattress. Puffy has been really innovative with its products, and that's the reason its products have a clear edge over their competitors.
If we were to have a Puffy vs Purple, or Puffy vs Casper or even a Puffy vs Leesa comparison, we are sure we would have the Puffy turning out to be a clear winner in all these cases. Although the other companies are well established and offer fairly good products as well, the Puffy's patent pending Cloud Cooling is just a class apart from the rest.
Unless you don't have a problem buying some of those high-end mattresses that cost a fortune, the Puffy mattress may likely turn out to be your best bet. If you're interested in soy based mattress at affordable cost, Check out the Hampton and Rhodes Mattress Review to learn more.
Summary
Reviewer
Review Date
Reviewed Item
Author Rating